We are located in Ivanhoe on Waterdale Road just 100 metres North of the junction of Livingstone Street and Upper Heidelberg Road, often called Ivanhoe Corner.  We have our own on site car park behind the practice building and accessed by Lowe Street, off Waterdale Road. See the map for details.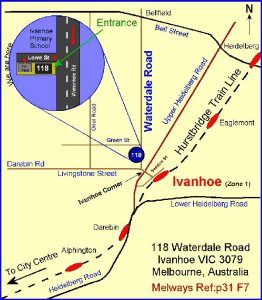 Note that there is a no right turn restriction into Waterdale Road off Livingstone Street so if you turn into Livingston Street from Upper Heidelberg Road you will have to go round the block via Oriel Road and Green Street to get into Waterdale Road.
Alternatively, leave the car at home and take a Hurstbridge line train to Ivanhoe Station, and we're a five minute walk away up Seddon Street. The Hurstbridge line has connections to other lines at Clifton Hill, Parliament and Flinders Street stations.   Bus routes 510, 547, 548 and 549 also service Ivanhoe.
There is also a taxi rank on Seddon Street just 5 minutes walk away.
You can always ring us on 9499 6699 for directions, if need be.